Special Events
PreSchool
Humpty Dumpty (Infants and Crawlers)
Main Library - 10:15 and 11:00 am on Thursdays
A special storytime for children up to 18 months old with a caregiver. Come join us for movement, music and fun with rhymes and puppets!
Questions? Call 727-892-5296.
Mother Goose
For children 1-3 with a caregiver
Main

Fridays @ 10:15 and 11:00 am

North

Wednesdays @ 10:15 am

South

Thursdays @ 10:15 am
Bounce Into Books!
Main Library - 3:15 pm on Thursdays
Children, ages 1 to 5 with a caregiver, will have fun with books, stories, movement activities and songs at this program.
Preschool Storytime
For children 3-5 with a caregiver
Johnson

Tuesdays @ 10:15 am 

Main

Wednesdays @ 10:15am

Mirror Lake

Mondays @ 10:15am

North

Wednesdays @ 11:00 am

South

Thursdays @ 11:00 am
Family Story Time and Elementary Age Programming
After School Storytime
Stories and a craft!
Childs Park

Fridays @ 4:30 pm

Main

Wednesdays @ 3:15 pm

West

1st Thursday @ 3:15 pm
Family Storytime
For children of all ages with a caregiver.
Main Library
Thursdays at 6:30pm

North Community Library
Tuesdays at 6:30pm
Library LEGO Mania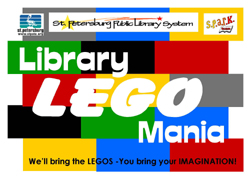 Join us for LEGO building fun!
We'll bring the LEGOS, You bring your IMAGINATION!
Accepting donations for new and gently used LEGOS. Call 892-5296 for more information.

Held weekly on Tuesdays at the Main Library at 3:30 p.m.!
Roll Over and Read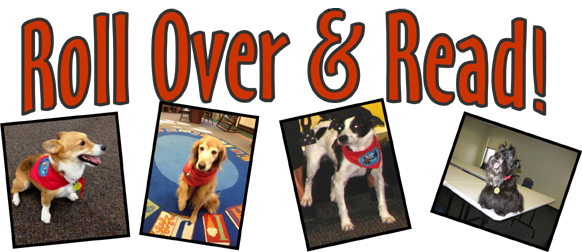 Practice reading with one of our our reading therapy dogs! Children can practice their reading with a patient, attentive friend in a relaxed atmosphere. Our four-legged reading tutors will help children gain confidence in their reading.
Call participating branches for more information and to sign up for a 15 minute session.
Main

1st Monday @ 3:30 pm


Johnson

1st Tuesday @ 3:30 pm

North

3rd Tuesday @ 3:30 pm

South

1st Friday @ 3:30 pm

*Dogs are part of the Therapy Dogs International reading program or Intermountain Therapy Animals R.E.A.D. Program.